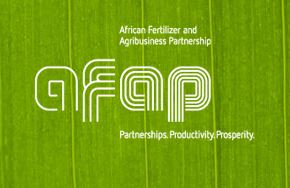 Speakers at the meeting with the
Zambia's
Minister of Agriculture and Livestock,
24 – 25 September. Lusaka, Zambia. Over 200 delegates from private fertilizer companies, financial institutions, development partners as well as policy and other decision makers driving the regional fertilizer agenda attended this meeting.
A key outcome of the meeting was the agreement by delegates to set up Working Groups to address three main areas for joint action: 1) Regional market integration; 2) Alternative financing mechanisms and risk management tools; 3) Capacity building across the fertilizer value chain.
Focus areas for the Working Groups include improving soil fertility and plant nutrition, harmonizing policy and regulatory frameworks as well as promoting regional borderless trade. Delegates also agreed to facilitate access to finance, promote capacity building, establish agro-businesses, promote infrastructure development and engage industry associations.
The two-day meeting was comprised mainly of plenary sessions and a series of panel discussions which allowed for intense exchange of views between the delegates. It facilitated business-to-business linkages between regional and international fertilizer companies to promote increased trade and investment in the sector. It also provided a platform for public-and-private sector dialogue towards the creation of a conducive policy and regulatory environment for the commercialization of the fertilizer industry in the region.
"I would like to commend COMESA, ACTESA and AFAP for developing partnerships through this platform and coming up with this initiative to find solutions that mitigate the challenges being experienced by our smallholder farmers in accessing affordable, quality fertilizer at the right time and place," Zambia's Minister of Agriculture and Livestock, Honorable Given Lubinda
Related: